To sign up, please enable JavaScript. Bring both strands of ribbon over the child's shoulder, and tie it to the elastic on the other side. Thank you so much for this pin. The baby feet are too much!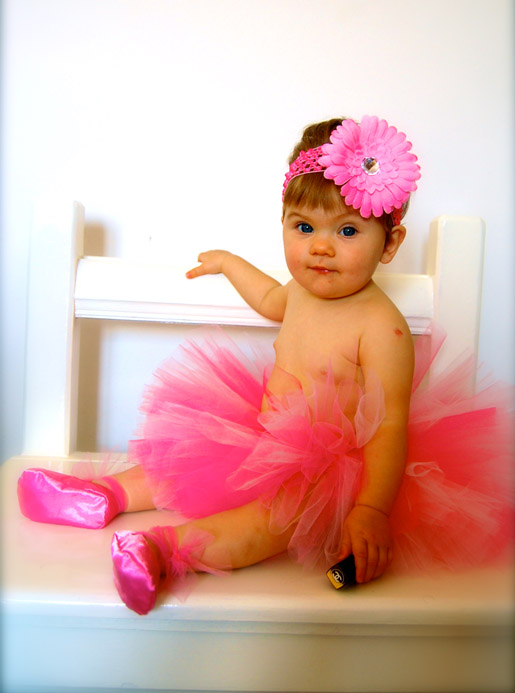 Instructions:
You'll notice tulle fabric is more stretchy in one direction than the other. If you want your tulle strips to all sit evenly then you need to cut the strips along the direction of the tulle that is less stretchy.
If not your tutu strips might appear curly, and the strips won't sit as evenly resulting in uneven puffiness of the skirt.
My friend's daughter's waist is 50 cm 20 inches so I wanted to make a tutu that would fit her now and into the future. I chose to cut 43 cm 17 inches of elastic. In hindsight I could have used 40 cm 16 inches and I think it would have been perfect, but I guess she'll fit it for longer.
Once you've chosen the length you want cut a few inches less than their waist size , sew the elastic ends together to form a loop of elastic. Now you need to knot all the pieces of tulle onto the elastic waistband. It is easy if you stretch the elastic loop around a large book to hold it in place. Next take your strips of tulle I kept mine layered so that I was knotting on two pieces at a time , and fold at the center point.
Put this center loop under the top of the elastic and then pull the ends of the tulle over the elastic and through the loop so that the tulle knots onto the elastic. Repeat over and over again until you've tied all your tulle strips onto the elastic.
I found that you need to pull the knots firmly but not too tight otherwise the elastic will stretch a lot and your waistband will be larger than you want it to be. Once all the tulle is knotted in place you will have a lovely full looking tutu like this. If you'd like to add a bow to your tutu cut a long length of ribbon. I forgot to measure it exactly, but I experimented first so I knew how much I needed before I trimmed the ribbon down.
I imagine I used no more than four times the length of the tutu, so I probably used a bit less then 1 m 40 inches. Loop the midpoint of the ribbon onto the elastic just like you did with the tulle. Now that it is in place, tie a bow and trim the ends of the ribbon so that they sit just above the length of the tulle. You can slightly melt the end of your ribbon or use a special spray to prevent the ends from fraying. And here is the finished tutu - isn't it adorable!
Once you've learned how to make a tutu you'll find that it is a go-to gift when you need a toddler or new baby gift in a rush!
I hope you enjoyed learning how to make a tutu in this tutorial. If you're looking for more toddler activities then you might enjoy these other projects on our site:. How to Make a Tutu Learn how to make a tutu the easy way using a loop of elastic and strips of tulle. Here is a picture of the tutu. Isn't it just so fluffy and fabulous!
Comments Have your say about what you just read! Leave me a comment in the box below. Find the perfect project There's no reason to buy a baby tutu from a store; they're easy, quick and inexpensive to make, even with minimal sewing skills. The DIY approach also means you can customize the colors, size and poofiness of your tutu.
Choose one of the following methods for making a baby tutu, and get ready for the adorableness to begin. The key measurements for baby tutus are waist and length. You can measure your baby around her tummy and the length down to her knees for a custom fit, or use standard measurements. Don't worry too much about a perfect fit. For newborns, use a waist size of 14 inches and a length of 6 inches; for 0 to 3 months, a inch waist and 7-inch length; for 3 to 6 months, a inch waist and 8-inch length; and for 6 to 12 months, a inch waist and 9-inch length.
The skirt part of a tutu is made using tulle, which is available in many colors in narrow rolls and by the yard 1 yard should be plenty. The fabric doesn't fray when it's cut, so don't have to hem or finish it along the edges. Sharp fabric scissors and a measuring tape are required.
For the sewing method, you will need straight pins, a safety pin, sewing machine and thread that matches the tulle. For both methods, you can choose from narrow elastic or ribbon for the waistband. Fabric glue is needed if you're choosing the no-sew approach and opting for an elastic waistband. If you have even basic sewing skills and supplies, sewing a tutu from scratch is a relatively quick and easy project. Cut a length of tulle with a width equal to the desired tutu length, plus 2 inches, and a length equal to three to six times your baby's waist measurement.
The longer the piece of tulle, the more poof the skirt will have. Simply fold over one long edge of the tulle by 1 inch, then another 1 inch. Pin and sew along the lower edge of the fold. This creates a tunnel of fabric, through which you thread a length of elastic cut to 1 inch longer than your baby's waist measurement, or a length of ribbon cut to 1.
Materials:
By the way, The Pinning Mama has an excellent tutorial on making no-sew tutus. She includes a size chart and has a really helpful way to easily cut the tulle. You can check out her post here. Make a bow and snip ends of ribbon to equal length. Use your fingers to separate all the tulle layers and fluff it out to make a fuller tutu. Step back and ooh and ahh at your adorable work! Tips: Tulle is messy. You may not think so, but every snip or adjustment you make will shed little tulle dust all over. How to Make a No Sew Fabric Tutu Dress No Sew Tutu Size Chart - Pin to keep this for reference so I have the size as my daughter grows. The best instructions too! So easy! Should you love arts and crafts an individual will really like our site! Find this Pin and more on Projects to Try by appi. No Sew Tutu size chart. Good for reference.